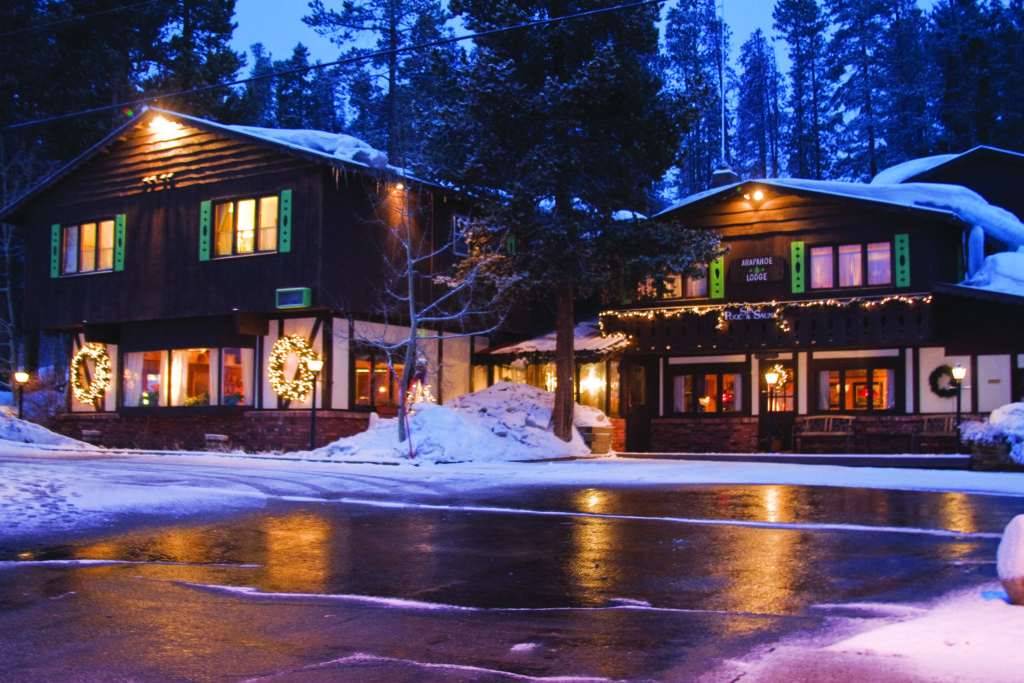 Get away from it all at the family owned and operated Arapahoe Ski Lodge conveniently located in downtown Winter Park, just 3 miles from the Winter Park Ski area. Here you can enjoy all the advantages of Colorado's favorite ski area, combined with a relaxing homelike atmosphere.
Arapahoe Ski Lodge offers you cheerful lodging, 11 rooms with one or two queen beds, each with private bath, room phones, wi-fi and data port. There is a bar/lounge serving your favorite drinks, and a large recreation room, each with a cozy fireplace . . . plus an indoor spa, sauna and heated pool for your complete relaxation. Best of all, enjoy relaxed dining with the finest food.
During the winter we provide our own transportation to and from the ski area and are on the Winter Park shuttle bus route.
We invite you to take a photo tour of our old fashioned ski lodge. We're proud of our unique lodge, recreational opportunities and comfortable bedrooms.
You will enjoy extraordinary home cooked cuisine in our private dining room.
Sample Menus
We provide shuttle transportation to Winter Park Resort.
Transportation
During the height of ski season, we provide an all inclusive package
including lodging, breakfast and dinner.
In summer, early & late ski season, we are a Bed and Breakfast.
Lodge Rates
Lodge Policies
For your convenience, we have installed a room phone system with internet ports as well as FREE WiFi.
You can check our availability and make reservations below, contact us via email skilodge@arapahoeskilodge.com, or give us a call at 1-800-754-0094 to book your visit to the Arapahoe Ski Lodge in Winter Park, Colorado.